The Mallee
by Adam McNicol (Text by, Photographer); Erin Jonasson (Photographer); Phil Campbell (Designed by, Photographer); Andrew Chapman (Photographer); Noel Butcher (Photographer); Melanie Dove (Photographer); Heather Ewart (Foreword by); Jaime Murcia (Photographer)
$59.95
AUD
Category: Australian Non fiction
$24.99
AUD
Category: Australian Non fiction
A post-colonial history of the destruction of the Fens of eastern England.
$49.99
AUD
Category: Australian Non fiction
Rivers have long run in the blood of Australians. Givers of life and subjects of anguish, Australian rivers have shaped the nation from the moment the first Australians arrived tens of thousands of years ago. Offering the vital ingredient for life, they are also guardians of culture, a means of transpor tation, sites for play and leisure, and sources of power—deeply entrenched in almost every aspect of human life and an irreplaceable part of the global ecosystem. Australia's vast inland seas of some 50 million years ago have disappeared, leaving a continent that is mostly desert. Of the waters and wetlands that remain, most of which are connected to rivers, 65 are listed as Ramsar Wetlands of International Importance. They are also of incredible — sometimes painful — local importance, as reminders of the dispossession suffered by those first peoples and their descendants and evidence of the devastation wrought by drought and dying waterways. The damming of Western Australia's Ord River during the 1960s and 1970s captured monsoonal rains within a catchment of over 55,000 square kilometres, creating the largest artificial lake on mainland Australia while destroying sites of cultural significance to the Miriwoong people and changing the ecosystem irrevocably. Barely ten years after the completion of the Ord project, the success of the Save the Franklin campaign in Tasmania is a testament to evolving understanding of the precious nature of waterways. Yet even this triumph was fraught: environmentalists' argument for preservation of Tasmania's 'wilderness' contained the implication that the land was without people, despite Indigenous habitation for at least 30,000 years. In this broad-ranging survey of some of Australia's most well-known, loved, engineered and fought over rivers, from Melbourne's Yarra to the Alligator rivers of Kakadu, award-winning author Ian Hoskins presents a history of our complex connections to water. A thoughtful foreword by former prime-ministerial speechwriter Don Watson laments the price rivers have paid for human industry and calls for greater connection with the waterways we rely on for our existence. In 2015, Watson's The Bush — part memoir, part travelogue, part history — was named the NSW Premier's Literary Awards book of the year and the Australian Independent Booksellers indie book of the year.   ...Show more
$29.99
AUD
Category: Australian Non fiction
Long before the COVID-19 pandemic shut down the global economy, a reset to serve the wellbeing of people and the planet was plainly needed. As Australia rebuilds, after the immediate health crisis has passed, it must be with the explicit purpose of constructing an economically and ecologically sustainab le world. After the Great Depression and the Second World War, economic thinking was transformed across the Anglosphere, with a determination to create a more equitable society and support every child, regardless of background, to achieve their full potential. Australia's leaders reshaped our economy through a determined and coordinated program of post-war reconstruction. Their reforms set us up for decades of prosperity and the creation of perhaps the most prosperous and stable society on earth. With contributions from some of Australia's most respected academics and leading thinkers, What Happens Next? sets out a progressive, reforming agenda to tackle the twin crises of climate change and inequality. It provides a framework through which our collective effort can be devoted to improving the lives of all Australians, and the sustainability of the world in which we live. ...Show more
$35.00
AUD
Category: Australian Non fiction
From the photographer behind Westography and Suburbia. The past doesn't disappear. It leaves its traces everywhere. - Christos Tsiolkas From West Brunswick to Reservoir, Fitzroy to Hadfield, Warren Kirk turns his keen eye upon the streets, buildings, and inhabitants of Melbourne's northern suburbs, wh ich are as iconic as they are rapidly changing. Both a tribute to the things we remember and a reminder to look anew at the world around us, the photos in Northside are a triumph of craft from an artist who invites us to really see. ...Show more
$34.99
AUD
Category: Australian Non fiction
Charismatic, intelligent and handsome, George Scott is unlike any other bushranger. Born into a privileged life in famine-wracked Ireland, Scott's family loses its fortune and is forced to flee to New Zealand. There, Scott joins the local militia and fights as a soldier against the Maori in the brutal N ew Zealand wars. After recovering from a series of serious gunshot wounds, he sails to Australia and becomes a Lay Preacher, captivating churchgoers with his fiery and inspiring sermons. But Scott is also prone to bursts of madness. The local villagers back in Ireland often whispered that a 'wild drop' ran in the blood of the Scott family. One night he dons a mask in a small country town, arms himself with a gun and, dubbing himself Captain Moonlite, brazenly robs a bank before staging one of the country's most audacious jailbreaks. After falling in love with fellow prisoner James Nesbitt, a boyish petty criminal desperately searching for a father figure, Scott finds himself unable to shrug off his criminal past. Pursued and harassed by the police, he stages a dramatic siege and prepares for a final showdown with the law - and a macabre executioner without a nose. Meticulously researched and drawing on previously unpublished material, Moonlite is a brilliant work of non-fiction that reads like a novel. Told at a cracking pace, and based on many of the extensive letters Scott wrote from his death cell, Moonlite is set amid the violent and sexually-repressed era of Australia in the second half of the 19th century. With a cast of remarkable characters, it weaves together the extraordinary lives of our bushrangers and the desperation of a young nation eager to remove the stains of its convict past. But most of all, Moonlite is a tragic love story. For these are the dying days of the bushrangers and Captain Moonlite is about to make his last stand. ...Show more
$39.95
AUD
Category: Australian Non fiction
In the 1970s the run-down inner-city suburb of Redfern was a gathering place for Aboriginal intellectuals and ambitious young radicals. Having fled poverty and segregation in rural Australia in the 1950s and 60s, they set about fulfilling their vision – a new way of living, where Aboriginal people could control their own lives – politically, economically and culturally. Redfern: Aboriginal activism in the 1970s is the previously untold story of how they set about fulfilling their dreams. In a fast-paced burst of creativity and hard work, in just three years an Aboriginal health service, a housing cooperative, a legal service, a child care centre and a black theatre in Redfern were established. They had some support, and the promise of self-determination under the newly elected Whitlam's Labor government, but there was also abuse and discrimination. This is the story of how, with hard work, humour and vision, they prevailed to build organisations that have served as models for similar organisations all over Australia.'A timely and overdue study of one of the most exciting time periods in Aboriginal political history.' — Professor John Maynard'The 1960s gave protest a voice. By the early 70s, the Aboriginal voice had become very loud near the heart of Sydney, in Redfern. It was thrilling. I knew at the time that something important was happening, but until reading Johanna Perheentupa's Redfern, I didn't know how important.' — Bryan Brown, actor ...Show more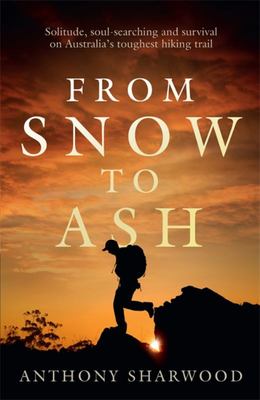 $32.99
AUD
Category: Australian Non fiction
The incredible, inspiring story of a solo journey through Australia's toughest and most beautiful hiking trail - the Australian Alps Walking Track - for fans of INTO THE WILD by Jon Krakauer or Cheryl Strayed's WILD and anyone who dreams of iconic wilderness walks. At the start of the hellish, fiery Au stralian summer of 2019/20, Walkley Award-winning journalist and suburban dad Anthony Sharwood set off on a journey. Abandoning his post on a busy news website to clear his mind, he solo-trekked the Australian Alps Walking Track, Australia's most gruelling and breathtakingly beautiful mainland hiking trail, which traverses the entirety of the legendary High Country from Gippsland in Victoria to the outskirts of Canberra. The journey started in a blizzard and ended in a blaze. Along the way, this lifelong lover of the mountains came to realise that nothing would ever be the same - either for him or for the imperilled Australian Alps, a landscape as fragile and sensitive to the changing climate as the Great Barrier Reef. ...Show more
Dunera Lives: Profiles
by Ken Inglis; Bill Gammage; Seumas Spark; Jay Winter; Carol Bunyan
$39.95
AUD
Category: Australian Non fiction | Series: Australian History Ser.
This second volume of Dunera Lives presents the voices, faces, and lives of 20 people, who, together with nearly 3000 other internees from Britain and Singapore, landed in Australia in 1940. All over the world there were Dunera Lives, those of men and women who passed through the upheavals of the Second World War and survived to tell the tale. Here are some of their stories. ...Show more
$29.99
AUD
Category: Australian Non fiction
   The 2019 Australian election produced a surprise result showing, not for the first time, that every election is there for the taking – including the next one. Here are the ten steps to winning an election. We have a democracy that performs relatively well, but many Australian elections are very clo se. So-called 'unloseable' elections are lost, reminding us that every election is a real contest. In this indispensable book drawing from years of close-up observation and analysis, historian and political journalist Chris Wallace draws out the ten essential steps to winning an election.The learner's error, she argues, is to grasp onto a couple of factors – so-called 'conventional wisdom' - without considering a full suite of winning factors and tracing the connections between them. Wallace notes that even when a couple of factors are significant in an election scenario, small improvements elsewhere can make the difference between winning and losing if performance and professionalism are maximised across the board.How to Win an Election is not a book designed to change your political opinion. It is a crucial resource for future political campaigns to ensure credibility, competence and accountability. Most of all, it is for party supporters and voters who can cast their vote knowing it has been backed by the best possible efforts to create change.'Elections in Australia are often decided by remarkably tight margins – a few thousand votes shift in some key seats and you get a different outcome. The campaigns parties run are complex and yet need to coalesce around strong, simple core messages. From the inside they are high-wire acts, often winner-take-all-bets. Chris Wallace brings original thinking and clarity to understanding the dynamics of elections and offers practical suggestions on how to win — including some that could probably only have come from an astute outsider.' — Geoff Walsh, ALP National Secretary (2000–2003), former adviser to Prime Ministers Bob Hawke and Paul Keating and Premiers Steve Bracks and John Brumby, veteran of nine Australian election campaigns and journalist ...Show more
$29.99
AUD
Category: Australian Non fiction
We've had a decade of distraction and inaction on climate change, but what made things go so very wrong in Australia? And what can the rest of the world learn from our mistakes – and opportunities? In Windfall, renewable energy expert Ketan Joshi examines how wind power inspired the creation of a weird, fabricated disease, and why the speed with which emissions could have been reduced — like putting a price on carbon — was hampered by a flurry of policy disasters. He then plots a way forward to a future where communities champion equitable new clean tech projects, where Australia grows past a reliance on toxic fuels, and where the power of people is used to rattle fossil fuel advocates from their complacency. Renewable energy can become a key player in the effort to upgrade our species from one on a path to self-destruction to a path of sustainability and fairness. With the knowledge of how the last decade was lost, the next decade can work the way it's meant to. 'In Windfall: Unlocking a fossil-free future, renewable energy industry insider Ketan Joshi gives a teeth-gnashing account of Australia's interminable climate debates. ...Show more
$34.99
AUD
Category: Australian Non fiction
A voyage of discovery, nature and untold histories - in the vein of Clare Wright, Edmund de Waal and Helen Macdonald. When the first woman to circumnavigate the world completed her journey in 1775, she returned home without any fanfare at all. Jeanne Barret, an impoverished peasant from Burgundy, disgu ised herself as a man and sailed on the 1766 Bougainville voyage as the naturalist's assistant. For over two centuries, the story of who this young woman was, why she left her home to undertake such a perilous journey and what happened when she returned has been shrouded in uncertainty. Biologist and award-winning author Danielle Clode embarks on a journey to solve the mysteries surrounding Jeanne Barret. From archives, herbariums and museums to untouched forests and open oceans, Clode's mission takes her from France and Mauritius to the Pacific Islands and New Guinea to reveal the previously untold full story of Jeanne's life as well as the achievements and challenges of her famous voyage. This book is an ode to the sea, to science and to one remarkable woman who, like all explorers, charted her own course for others to follow. PRAISE FOR IN SEARCH OF THE WOMAN SAILED THE WORLD 'Clode conjures a spellbinding tale of gender, empire, natural history - and the lure of the ocean.' Yves Rees 'Seamlessly weaving together memoir, history and science ... a fascinating and deeply affecting exploration of voyaging, women's lives, and the stories we tell and the stories we don't.' James Bradley 'Biologist, historian, writer, Clode once again demonstrates the connectedness of everything - animals, land, people, plants, sea, sky - at a time when, more than ever, we should be acutely aware of it.' Gay Lynch 'A joy to read, simple yet elegant, it whispers in your ear like the sea murmuring from within a shell.' Kristen Weidenbach 'Danielle Clode unties the knots of myth and weaves a fascinating story of discovery; Jeanne Barret is one of history's most enigmatic explorers.' Nick Brodie 'Clode brings a scientific rigour and a celebration of natural history to the biography of this important woman.' Stephanie Parkyn ...Show more