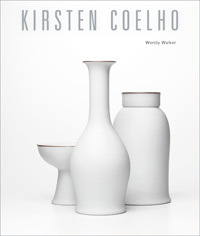 Kirsten Coehlo
by Wendy Walker; Glenn Barkley (Foreword by); Kirsten Coelho (Artist)
$54.95
AUD
Category: Art and Design
Kirsten Coelho works in porcelain creating functional forms and vessels of a distilled and otherworldly perfection, which represent her preferred fusion of the formal with the abstract. Deeply grounded in North-Asian ceramic history and the powerful legacy of the British studio movement, her refined int erpretations of humble domestic wares nevertheless possess a distinctly contemporary and Australian sensibility. She has exhibited extensively and increasingly widely - predominantly in Australia and the United Kingdom, but also Denmark, Hong Kong, Korea, the Netherlands, New Zealand, Singapore, Taipei and the USA. Included in major international ceramic publications authored by Emmanuel Cooper, Louisa Taylor and Edmund de Waal, her work has been acquired for significant private and public collections. In 'Kirsten Coelho', the first major publication on a practice spanning thirty years, images of Coelho's impeccable vessels are interleaved with fragments of poetry and reproductions of paintings by Jean-Baptiste-Siméon Chardin, Russell Drysdale and Vilhelm Hammershøi. In a series of essays, author Wendy Walker traces the evolution of Coelho's textured practice, in which an ever-expanding framework of art historical, literary and cinematic references has driven a succession of formal shifts - a shaping of changes. Inherited vocabularies are assimilated in hybridised multiple forms that are without replication. With the adoption of an ensemble mode of presentation, Kirsten Coelho's small universes of transcultural objects transcend the familiarity of their everyday contexts to enshrine narratives of migration, transition and resettlement. ...Show more
William Blake
by Kathleen Raine; Colin Trodd (Introduction by)
$29.99
AUD
Category: Art and Design | Series: World of Art Ser.
Prophet, poet, painter, engraver - William Blake (1757-1827) was an artist of uniquely powerful imagination and far-reaching creative gifts. His work expresses the spiritual drama of the English national being, integrating poetry and visual art in a sustained work of visionary creativity unparalleled in English art history. Revealing Blake to be far more than a revolutionary social radical, this classic study reshapes our understanding of the artist's achievement. Kathleen Raine details the enriching effect of mystical, alchemical and gnostic philosophy on Blake's art. She unravels the complex, deeply felt symbolism expressed in his paintings and prints, and describes the powerful impact of his reading of Dante, Milton and the Bible. Raine's compelling and accessible text guides the reader through the life and thought of this extraordinary artist. Fully alive to the uniqueness of Blake's art - which has 'a reality, a coherence, a climate' all its own - she introduces famous work such as Jerusalem, Songs of Innocence and of Experience, The Four Zoas and The Book of Job, relating them to Blake's world view and explaining their prophetic qualities, their fierce energy, and their central place in British Romantic art. ...Show more
$39.99
AUD
Category: Art and Design
This new book by Syrian architect Marwa al-Sabouni, seeks to understand how cities and buildings--scarred by conflict, blight, and pandemic--can be healed through design and urban mindfulness. When Marwa al-Sabouni published Battle for Home in 2016, she was a little-known architect, living in battle-rav aged Homs, Syria, unable to practice her profession. She turned her fierce intelligence to chronicling how her city and country were undone through decades of architectural mismanagement and mistakes. Once published, Marwa al-Sabouni's book and story attracted the attention of international media--CNN, The New York Times--and received critical acclaim worldwide. The United Nations called on her for insights and expertise. She became a TED fellow, was invited to speak to audiences around the world, and some suggested she be nominated for architecture's highest honor, the Pritzker Prize. Al-Sabouni's deep understanding of Middle Eastern heritage and architecture gives her insight into a wide range of cities, informing her views on how cities work best, how they might fail, and what can be done to harmonize the lives of all their inhabitants. In this compelling new book, al-Sabouni draws together several narratives: her personal and professional observations of some of the world's most fascinating cities, from Detroit to Helsinki; the lessons that Western societies might learn from Islamic culture and design; and philosophical reflections on how our personal and communal spaces can provide the basic foundations for happiness. Through this tapestry of personal experience, unblinking perspective, and insight, al-Sabouni offers real-world solutions--and hope--for how peace might be created through mindful urban planning. ...Show more
$19.99
AUD
Category: Art and Design
"Inspiration leaps off the pages from Jerry Saltz's new book on creativity. . . . This book is for the artist or non-artist, for the person who gets plain English, for the person who understands that practical talk can coax out the mystical messages that lie underneath." --Steve Martin Art has the powe r to change our lives. For many, becoming an artist is a lifelong dream. But how to make it happen? In How to Be an Artist, Jerry Saltz, one of the art world's most celebrated and passionate voices, offers an indispensable handbook for creative people of all kinds. From the first sparks of inspiration--and how to pursue them without giving in to self-doubt--Saltz offers invaluable insight into what really matters to emerging artists: originality, persistence, a balance between knowledge and intuition, and that most precious of qualities, self-belief. Brimming with rules, prompts, and practical tips, How to Be an Artist gives artists new ways to break through creative blocks, get the most from materials, navigate career challenges, and above all find joy in the work. Packed into this dazzling handbook are more than sixty tips, prompts, and insights, including: Embrace Genre Own Your Guilty Pleasures Look Hard, Look Openly Make Art for Now, Not the Future Make an Enemy of Envy Get Lost and more--along with full-color artwork from visionaries ancient and modern, from Navajo sand artists to Rembrandt and Matisse, Vivian Maier and Hilma af Klint, Andy Warhol, Bill Traylor, and Jaune Quick-to-See Smith. This beautiful and useful book will help artists of all kinds--painters, photographers, writers, performers--realize their dreams. ...Show more
$59.95
AUD
Category: Art and Design
An unprecedented, essential field guide to more than a century of fascinating product and industrial design. From legendary classics to anonymous objects that are indispensable in homes and offices, this one-of-a-kind collection of original patent documents celebrates the creative genius of designers, i nventors, creators, innovators, and dreamers the world over. The range is phenomenal: patents by Eero Saarinen, Charles Eames, Isamu Noguchi, Ettore Sottsass, Raymond Loewy, and George Nelson sit alongside everyday designs for tape dispensers, pencil sharpeners, food processors, desk fans, and drink bottles to create an valuable reference that's also an irresistible browse. ...Show more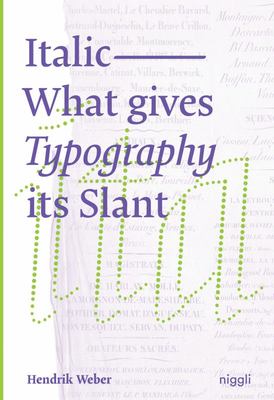 $39.99
AUD
Category: Art and Design
The use of italic letters as means of accentuation has become common practice in the digital age. They convey movement and dynamics, address the emotional experience of reading and remind of handwriting. However, this lively characteristic, which once resulted from the movement of the hand, is noticeabl y lost when words are simply tilted by a mouse click. To impart knowledge about this typographic feature and to find a general definition as writing style, the author has compiled style patterns to examine the tangible forms, characteristics and functions of "italic nature". Furthermore, he deals intensively with the historical development of italics from handwriting to digital typesetting. This monograph is the first detailed treatise on this topic, and is aimed at all those who deal with letters professionally or privately. ...Show more
$24.99
AUD
Category: Art and Design | Series: Read This Ser.
Painting isn't as hard as it looks. And it's fun. Whether you're a total beginner or have been painting for years, this indispensable guide cuts through the jargon and provides clear, practical advice and tips to help develop your skills. Techniques and ideas are described and explained, inspiring you t o make your own great paintings. Addressing the fundamentals of painting with watercolour, oil and acrylic, the book encourages you to explore the limitless possibilities painting has to offer. Read This if You Want to Be Great at Painting is an accessible and jargon-free guide to painting, including watercolour, oil and acrylic. The book includes more than 40 examples of great paintings by masters and contemporary artists and simple diagrams and practical activities help you practice each technique. ...Show more
$30.00
AUD
Category: Art and Design | Series: Graphic Lives Ser.
A stunning visual biography of one of Japan's most famous historical artists, this book beautifully illustrates the story of Katsushika Hokusai. Enter the world of Katsushika Hokusai - the enigmatic creator of Japanese art's all-time most iconic image. This vivid graphic biography tells the story of Hok usai's intriguing life and pioneering works, details the fascinating historical context of Edo-era Japan, and explains how Hokusai forged an image of his country that still resonates across the world today. Telling the story of both his eccentric (and incredibly productive) life - while simultaneously painting a fascination picture of his wider cultural legacy, this book is ideal for both those new to Hokusai's work - and his biggest fans. Those who enjoyed Basquiat: A Graphic Novel by Paolo Parisi or Pollock Confidential: A Graphic Novel by Onofrio Catacchio should look at this too. ...Show more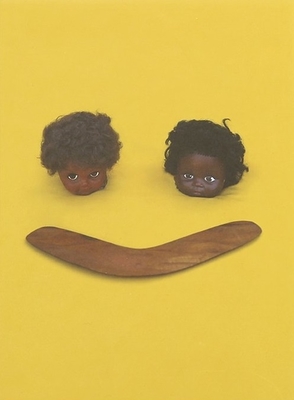 Destiny
by Destiny Deacon + Edited by Myles Russell-Cook
$69.95
AUD
Category: Art and Design
Australian artist Destiny Deacon, a Kuku and Erub/Mer (North-East Cape York and Torres Strait) woman, is known for having coined the term 'blak', in a reclaiming and recasting of a word with myriad connotations of colonialism and prejudice. Her work sits in the uncomfortable but compelling space between comedy and tragedy. Working across photography, video, printmaking, mixed media and installation, Deacon interrogates the way in which Aboriginal people have been, and continue to be, misrepresented within popular culture. This publication, edited by Myles Russell-Cook, Curator, Indigenous Art at the NGV and curator of the exhibition DESTINY, is the largest in-depth study of Deacon's practice ever to appear in book form. Through all-blak scholarship and images of Deacon's work spanning more than thirty years, we gain a strong sense of Deacon as artist and person, and of her enduring fascination with the human condition. ...Show more