$49.99
AUD
Category: Introducing & Short History Series
In the annals of military history, the Western Front stands as an enduring symbol of the folly and futility of war. However, The Western Front, by bestselling military historian Nick Lloyd, reveals that the story is not, as so many assume, one of pointlessness and stupidity. Rather, it is an epic trium ph against the odds. With a cast of hundreds and a huge canvas of places and events, Lloyd tells the whole tale, revealing what happened in France and Belgium between August 1914 and November 1918 from the perspective of all the main combatants - including French, British, Belgian, US and, most importantly, German forces. Drawing upon the latest scholarship on the war, wrongly overlooked first-person accounts, and archival material from every angle, Lloyd examines the most decisive campaigns of the Great War and explains the achievements that have been too long obscured by legends of mud, blood and futility. Far from being an arena of static, stale attrition - and despite mistakes and wrong turns along the way - the Western Front was a 'cauldron of war' that saw unprecedented innovation, adaptation and tactical development. Lloyd conveys the visceral assault of the battlefield, and skilfully moves the focus in and out, giving both the bigger picture and telling detail. He recreates the decision-making and experiences of the war as it was at the time as well as with hindsight, and in doing so redefines our understanding of this crucial theatre in this monumental tragedy. ...Show more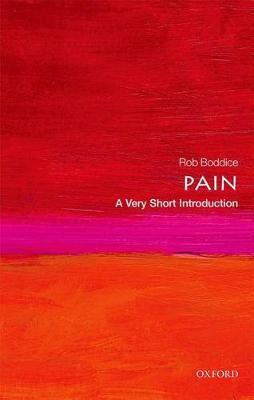 $16.95
AUD
Category: Introducing & Short History Series | Series: Very Short Introductions
What is pain? Has the experience of pain always been the same? How is pain related to the emotions, to culture, and to pleasure? What happens to us when we feel pain? How does pain work in the body and in the brain? In this Very Short Introduction, Rob Boddice explores the history, culture, and medical science of pain. Charting the shifting meanings of pain across time and place, he focusses on how the experience and treatment of pain have changed. He describes historical hierarchies of pain experience that related pain to social class and race, and the privileging of human states of pain over that of other animals. From the pain concepts of classical antiquity to expressions of pain in contemporary art, and modern medical approaches to the understanding, treatment, and management of pain, Boddice weaves a multifaceted account of this central human experience. Ranging from neuroscientific innovations in experimental medicine to the constructionist arguments of social scientists, pain is shown to resist a timeless definition. Pain is physical and emotional, of body and mind, and is always experienced subjectively and contextually. ABOUT THE SERIES: The Very Short Introductions series from Oxford University Press contains hundreds of titles in almost every subject area. These pocket-sized books are the perfect way to get ahead in a new subject quickly. Our expert authors combine facts, analysis, perspective, new ideas, and enthusiasm to make interesting and challenging topics highly readable. ...Show more
$12.99
AUD
Category: Introducing & Short History Series | Series: Introducing... Ser.
Quantum theory confronts us with bizarre paradoxes which contradict the logic of classical physics. At the subatomic level, one particle seems to know what the others are doing, and according to Heisenberg's "uncertainty principle", there is a limit on how accurately nature can be observed. And yet the theory is amazingly accurate and widely applied, explaining all of chemistry and most of physics. "Introducing Quantum Theory" takes us on a step-by-step tour with the key figures, including Planck, Einstein, Bohr, Heisenberg and Schrodinger. Each contributed at least one crucial concept to the theory. The puzzle of the wave-particle duality is here, along with descriptions of the two questions raised against Bohr's "Copenhagen Interpretation" - the famous "dead and alive cat" and the EPR paradox. Both remain unresolved. ...Show more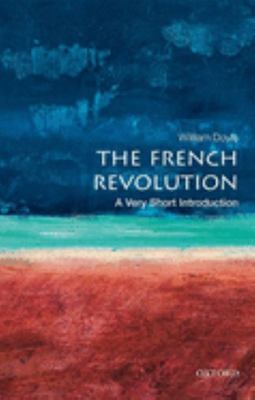 French Revolution: A Very Short Introduction
by Doyle, William (Emeritus Professor of History and Senior Research Fellow at the University of Bristol)
$17.95
AUD
Category: Introducing & Short History Series | Series: Very Short Introductions Ser.
Beginning with a discussion of familiar images of the French Revolution, garnered from Dickens, Baroness Orczy, and Tolstoy, as well as the legends of let them eat cake, and tricolours, Doyle leads the reader to the realization that we are still living with developments and consequences of the French Re volution such as decimalization, and the whole ideology of human rights. Continuing with a brief survey of the old regime and how it collapsed, Doyle continues to ellucidate how the revolution happened: why did the revolutionaries quarrel with the king, the church and the rest of Europe, why this produced Terror, and finally how it accomplished rule by a general. The revolution destroyed the age-old cultural, institutional and social structures in France and beyond. This book looks at how the ancien regime became ancien as well as examining cases in which achievement failed to match ambition. Doyle explores the legacy of the revolution in the form of rationality in public affairs and responsible government, and finishes his examination of the revolution with a discussion of why it has been so controversial. About the Series: Combining authority with wit, accessibility, and style, Very Short Introductions offer an introduction to some of life's most interesting topics. Written by experts for the newcomer, they demonstrate the finest contemporary thinking about the central problems and issues in hundreds of key topics, from philosophy to Freud, quantum theory to Islam. ...Show more
$16.95
AUD
Category: Introducing & Short History Series | Series: Very Short Introductions Ser.
In places such as Iraq, Lebanon, and Israel, moving a few feet in a territorial boundary can be a matter of life or death, dramatically highlighting the connections between place and politics. Even far away from these "danger zones"- in Europe or the US for example - geopolitics remains an important par t of everyday life. A country's location and size as well as its sovereignty and resources all affect how the people that live there understand and interact with the wider world. In this new edition, Klaus Dodds takes into account several world developments that have occured since original publication, including the Arab Spring, the worldwide economic crisis, and the developing role of China in international politics. Using wide-ranging examples, from historical maps to James Bond films and the rhetoric of political leaders both past and present, this Very Short Introduction shows why- for a full understanding of contemporary global politics- it necessary to be geopolitical. ABOUT THE SERIES: The Very Short Introductions series from Oxford University Press contains hundreds of titles in almost every subject area. These pocket-sized books are the perfect way to get ahead in a new subject quickly. Our expert authors combine facts, analysis, perspective, new ideas, and enthusiasm to make interesting and challenging topics highly readable. ...Show more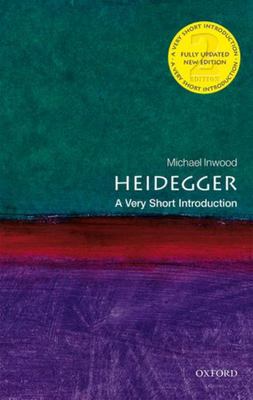 $16.95
AUD
Category: Introducing & Short History Series | Series: Very Short Introductions Ser.
Martin Heidegger, considered by some to be the greatest charlatan ever to claim the title of "philosopher", by some as an apologist for Nazism, and by others as an acknowledged leader in continental philosophy, is probably the most divisive thinker of the twentieth century. In the second edition of this Very Short Introduction, Michael Inwood focuses on Heidegger's most important work, Being and Time, to explore its major themes of existence in the world, inauthenticity, guilt, destiny, truth, and the nature of time. These themes are then reassessed in the light ofHeidegger's multifaceted later thought, and how, despite its diversity, it hangs together as a single, coherent project. Finally, Inwood turns to Heidegger's Nazism and anti-semitism, to reveal its deep connection with his personality and overall view of philosophy. This is an invaluable guide tothe complex and voluminous thought of one of the twentieth century's greatest yet most enigmatic philosophers. ABOUT THE SERIES: The Very Short Introductions series from Oxford University Press contains hundreds of titles in almost every subject area. These pocket-sized books are the perfect way to get ahead in a new subject quickly. Our expert authors combine facts, analysis, perspective, new ideas, andenthusiasm to make interesting and challenging topics highly readable. ...Show more