$32.99
AUD
Category: Travel
The height of Mt. Everest was first measured in 1850, but the closest any westerner got to Everest during the next 71 years, until 1921, was 40 miles. The Hunt for Mt. Everest tells the story of the 71-year quest to find the world's highest mountain. It's a tale of high drama, of larger-than-life charac ters-George Everest, Francis Younghusband, George Mallory, Lord Curzon, Edward Whymper-and a few quiet heroes: Alexander Kellas, the 13th Dalai Lama, Charles Bell. A story that traverses the Alps, the Himalayas, Nepal and Tibet, the British Empire (especially British India and the Raj), the Anglo-Russian rivalry known as The Great Game, the disastrous First Afghan War, and the phenomenal Survey of India - it is far bigger than simply the tallest mountain in the world. Encountering spies, war, political intrigues, and hundreds of mules, camels, bullocks, yaks, and two zebrules, Craig Storti uncovers the fascinating and still largely overlooked saga of all that led up to that moment in late June of 1921 when two English climbers, George Mallory and Guy Bullock, became the first westerners-and almost certainly the first human beings-to set foot on Mt. Everest and thereby claimed the last remaining major prize in the history of exploration. With 2021 bringing the 100th anniversary of that year, most Everest chronicles have dealt with the climbing history of the mountain, with all that happened after 1921. The Hunt for Mt. Everest is the seldom-told story of all that happened before. ...Show more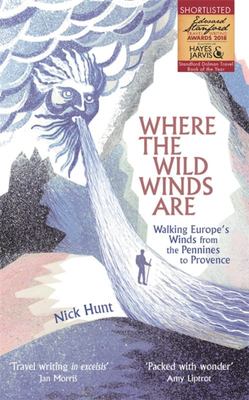 $24.99
AUD
Category: Travel | Reading Level: very good
A Financial Times Book of the YearA Spectator Book of the Year'Travel writing in excelsis' -Jan Morris, author of Venice'A thrilling and gorgeous tale, packed with meteorological wonder' -Amy Liptrot, author of The Outrun Nick Hunt sets off on an unlikely quest: to follow four of Europe's winds across t he continent. His wind-walks begin on Cross Fell, the highest point of the Pennines, as he chases the roaring Helm - the only named wind in Britain. In southern Europe he follows the Bora - a bitter northerly that blows from Trieste through Slovenia and down the Croatian coast. His hunt for the 'snow-eating' Foehn becomes a meandering journey of exhilaration and despair through the Alpine valleys of Switzerland, and his final walk traces an ancient pilgrims' path in the south of France on the trail of the Mistral - the 'wind of madness' which animated and tormented Vincent Van Gogh. These are journeys into wild wind, but also into wild landscapes and the people who inhabit them - a cast of meteorologists, storm chasers, mountain men, eccentric wind enthusiasts, sailors and shepherds. Soon Nick finds himself borne along by the very forces he is pursuing, through rain, blizzards, howling gales, and back through time itself. For, where the wild winds are, there are also myths and legends, history and hearsay, science and superstition - and occasionally remote mountain cabins packed with pickles, cured meats and homemade alcohol. Where the Wild Winds Are is a beautiful, unconventional travelogue that makes the invisible visible. ...Show more
$22.99
AUD
Category: Travel
From the celebrated author of Border, here is a portrait of an ancient but little-understood corner of Balkans, and a personal reckoning with the past.
$29.99
AUD
Category: Travel
Anthony Bourdain saw more of the world than nearly anyone. His travels took him from the hidden pockets of his hometown of New York to a tribal longhouse in Borneo, from cosmopolitan Buenos Aires, Paris, and Shanghai to Tanzania's utter beauty and the stunning desert solitude of Oman's Empty Quarter - a nd many places beyond.In World Travel, a life of experience is collected into an entertaining, practical, fun and frank travel guide that gives readers an introduction to some of his favorite places - in his own words. Featuring essential advice on how to get there, what to eat, where to stay and, in some cases, what to avoid, World Travel provides essential context that will help readers further appreciate the reasons why Bourdain found a place enchanting and memorable.Supplementing Bourdain's words are a handful of essays by friends, colleagues, and family that tell even deeper stories about a place, including sardonic accounts of traveling with Bourdain by his brother, Chris; a guide to Chicago's best cheap eats by legendary music producer Steve Albini, and more. Additionally, each chapter includes sly, witty illustrations by cartoonist Tony Millionaire.For veteran travelers, armchair enthusiasts, and those in between, World Travel offers a chance to experience the world like Anthony Bourdain.   ...Show more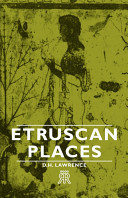 $40.00
AUD
Category: Travel
The Etruscan civilisation, which flourished from the 8th until the 5th century BC in what is now Tuscany, is one of the most fascinating and mysterious in history. An uninhibited, elemental people, the Etruscans enthralled D.H. Lawrence, who craved their 'old wisdom', the secret of their vivacity and lo ve of life. To him they represented the antithesis of everything he despised in the modern world, perhaps because their spontaneity and naturalness struck a chord with his own quest for personal and artistic freedom - so often censured or repressed. Lawrence approaches the enigmatic Etruscans as a poet, passionately and searchingly, and so the reader is swept up in his luminous descriptions of a utopian world where dancing and feasting, art and music were everything. The exhilaration of Lawrence in his Etruscan adventures stands in stark contrast to his intimations of the darkness of Mussolini's Italy - at a time when Europe was beginning its inexorable drift towards tragedy. The last of Lawrence's travel books, 'Etruscan Places' is an ephemeral and vivid account, replete with hauntingly evocative descriptions of the way of life of this once great civilisation. ...Show more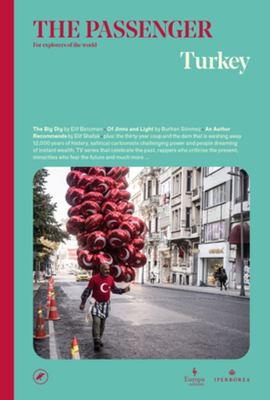 $29.99
AUD
Category: Travel | Series: The\Passenger Ser.
The Big Dig by Elif Batuman -A Story of Dust and Lightby Burhan Sönmez - An Author Recommends by Elif Shafak - plus: the thirty-year coup and the dam that is washing away 12,000 years of history, and more. The birth of the "New Turkey," as the country's President Recep Tayyip Erdogan has called his own creation, is an exemplary story of the rise of "illiberal democracies" through the erosion of civil liberties, press freedom, and the independence of the judicial system. Turkey was a complex country long before the rise of its new sultan: born out of the ashes of a vast multi- ethnic and multi-religious empire, Turkey has grappled through its relatively short history with the definition of its own identity. Poised between competing ideologies, secularism and piousness, a militaristic nationalism and exceptional openness to foreigners, Turkey defies easy labels and categories. Through the voices of some of its best writers and journalists- many of them in self-imposed exile--The Passenger tries to make sense of this fascinating, maddening country, analyzing how it got to where it is now, and finding the bright spots of hope that allow its always resourceful, often frustrated population to continue living, and thriving. ...Show more
$29.99
AUD
Category: Travel
Ghosts and specters, the eerie and the occult. Why is contemporary culture so preoccupied by the supernatural, so captivated by the revenants of an earlier age, so haunted? The concept of Hauntology has evolved since first emerging in the 1990s, and has now entered the cultural mainstream as a shorthand for our new-found obsession with the recent past. But where does this term come from and what exactly does it mean?This book seeks to answer these questions by examining the history of our fascination with the uncanny from the golden age of the Victorian ghost story to the present day. From Dickens to Derrida, MR James to Mark Fisher; from the rise of Spiritualism to the folk horror revival, Hauntology traces our continuing engagement with these esoteric ideas. Moving between the literary and the theoretical, the visual and the political, Hauntology explores our nostalgia for the cultural artifacts of a past from which we seem unable to break free. ...Show more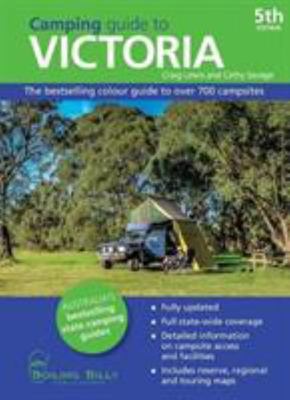 $39.99
AUD
Category: Travel | Series: Boiling Billy Camping Guides
Explore the very best camping spots in Victoria with this fully updated, expanded and detailed directory to more than 750 campsites. With Camping Guide to Victoria, 5th Edition, youll discover places where you can pitch your tent on a mountain peak, wander along secluded beaches, throw in a line from yo ur campsite beside a meandering inland river or enjoy a beachfront campsite with the ocean at your doorstep. Craig Lewis and Cathy Savage established Boiling Billy Publications in 1996 and have been travelling, camping out and writing ever since. ...Show more
$64.99
AUD
Category: Travel
Camps Australia Wide 10 A4 Edition features more sites than ever before, giving campers, caravanners, 4WD enthusiasts, road trippers and other travellers more places to pull up and stay for the night. Travellers who want to take their pet on the road can choose from over 3,935 pet-friendly campsites so you dont have to leave your pet behind. Camps Australia Wide 10 Spiral Bound Book : A4 Size The Original Free Camping Guide. Budget and Freedom Conscious travellers find your perfect spot with Camps 10.  Save Money and Travel Further with over 5000+ personally checked Free and Budget campsites. Thats 20% more than Camps 9! It is the definitive guide to low-cost camping across Australia, featuring verified free camps, caravan parks, national and state parks, community campsites, showgrounds, station stays and much more. * 5,000+ free and low-cost sites * 3,935+ pet-friendly sites * GPS positions of each site * Over 950 additional campsite listings * Atlas mapping for navigation This edition is A4 in size, with Spiral Binding. If you want the Easier to Read Edition of Camps 10 with pictures of the camps sites, larger easier to read maps and text search for Camps 10 B4 with snaps). The latest edition of Camps Australia Wide features more sites than ever before, giving campers, caravanners, 4WD enthusiasts, road trippers and other travellers more places to pull up and stay for the night. Travellers who want to take their pet on the road can choose from over 3,935 pet-friendly campsites using Camps 10, making it easy to discover Australia without having to leave your furry (or otherwise) friend behind. To help you navigate your journey, Camps 10 features the latest Hema road atlas mapping for all of Australia. With each site pinpointed and referenced on the mapping, it's easy to find the perfect place to stay without huge camping fees using Camps 10. Whats new in Camps 10? * Existing sites have been revisited to ensure accuracy * 950+ New sites and new photos have been added  * Closed and unsuitable sites have been removed * Map customisation for easier reading * National site indexation * Free "Update Service" online at the Camps Australia Wide website * Camp site listing features Each site listing in the book contains: * Site Name * Location with address details Site classification * Map reference by Hema Maps * GPS coordinates * Site facilities available including toilets, disabled facilities, if shade is available, fireplace provided, fees payable, Big Rig suitable identifier, powered site available, nice views or lookouts, mobile phone reception and if pets are allowed. ...Show more
$39.99
AUD
Category: Travel
35 trips that highlight some of the most interesting, scenic and rewarding railway journeys in Australia and New Zealand. They include the renowned long-distance journeys, such as The Indian Pacific in Australia that takes travellers on a three-day trip from Perth to Sydney or the The Northern Explorer in New Zealand's North Island that stretches from Wellington to Auckland, as well as those that traverse stunning scenery, such as New Zealand's TranzAlpine train or the Spirit of the Outback in Australia. There are also routes on which restored steam locomotives operate and other lines included for the wonder of their engineering. Trains are a great way to travel in these countries, taking you at ground level past superb scenery that often cannot be seen by any other means of transport. David Bowden's entertaining text describes the route, the major features of interest along the way and any special technical details about the locomotive or the track. ...Show more
Australia's Best 100 Walks
by Katrina O'Brien; Australian Geographic ((various roles))
$39.95
AUD
Category: Travel
A great walk can be an exhilarating experience that will stay with you forever. Perhaps you're stirred by endless mountain views or soothed by stepping into a living green cathedral. Maybe the challenge drives you harder and farther than you thought possible. Sometimes you'll find yourself in the presen ce of a rare creature and feel a jolt of connection. There's always magic to be found when walking but the very best walks will do all of these things. Fortunately, Australia is full of extraordinary walks - here's our collection of the best to be found in every corner of this country.   ...Show more